When violence arises, children always bear the highest pain and suffering.
The recent Xenophobic attacks have caused serious emotional distress and great psychological harm to children. Many have been unable to attend school and have been victims of crime after being forced from their homes.  
Our teams were among the first on the ground in KwaZulu Natal and  Gauteng setting up safe spaces for children so they are safe, no longer afraid and are able to look forward to their futures.   
(A foreign child plays in a tent on a sports field in Isipingo, south of Durban.)

Psychological Trauma for Children
We have noted with great concern reports that cite the loss of children's school books and uniforms in the wake of the looting of their homes and lack of transport from transit camps to schools – over and above the widespread displacement. Furthermore, children who witness xenophobia being perpetrated against their families, face the lifelong impact of psychological trauma.
These reports on the increasingly precarious and dangerous environment confirm our research findings that 90% of children migrant children who participated stated that they do not feel safe in the cities where they are residing. This included foreign national children as well as South African children who had migrated internally from rural communities to cities.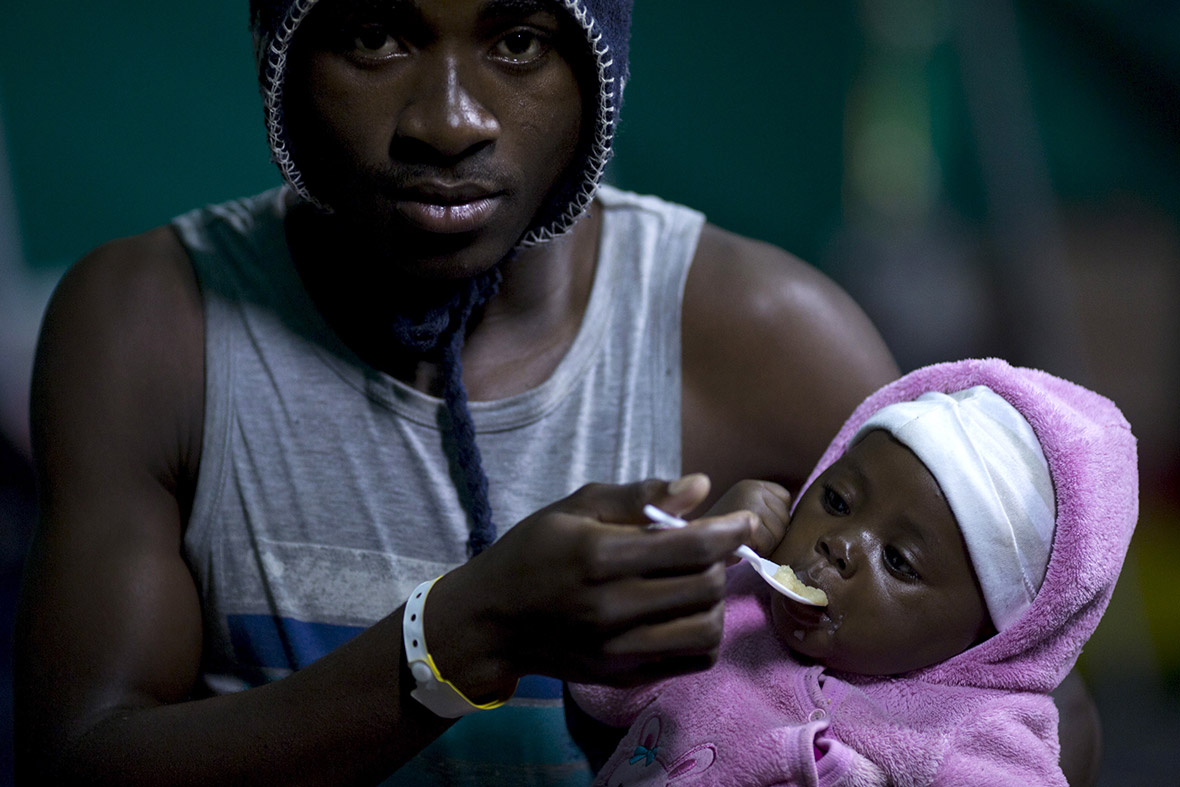 (A foreign man feeds his young child in a tent in Isipingo, south of Durban.)

Children Being Displaced
Since the terrible events of 2008, during which tens of thousands of migrants - many of whom children, were displaced- we are actively promoting the protection of migrant children's rights in South Africa. With the support of the European Union, we are working to improve the protection of children crossing borders between South Africa, Zimbabwe and Mozambique, and protect approximately 80,000 children across the region at risk of unsafe migration.
We continue to call on the South African government to take a lead and collaborate with national and international child rights actors to take urgent action ensuring that migrant children are protected from violence and that current events do not prevent children from accessing education. 
How We Helped
We provided children with vital supplies including hygiene products.
We started educational activities, recreational facilities and counselling support to limit the attack's negative impact on the children's future.
At the same time we set up child friendly spaces to provide children with a place where they can be themselves, interact with other children, play and learn in a safe environment.
We established a system to identify missing children within the camp and reunify them with their parents.
We reached over 400 children through our response to this disturbing crisis.
How You Can Help in Times of Crisis
Join Save the Children South Africa on the frontline to help us respond quickly and effectively when children are in crisis – bringing relief quickly, and before it's too late:
(All images by Rogan Ward / Reuters)